3D Virtual Gallery and NFT: A Revolutionary New Way to Engage with Art
The evolution of technology is widespread and the art industry is leveraging it by focusing on what the audience wants to see these days. In this day and age where every business is digitised, it comes as no surprise that people would also want art pieces to be shown online. 3D virtual galleries and the metaverse have a big role to play in this growth, they are expanding the art space in more ways than imaginable. It's only a matter of time before it's going to become a norm and why not, 3D virtual galleries are giving a fair chance to every artist by showcasing their work.
The rise of NFT
Well, when we say that the 3D world is different, it's actually true. Just like the real-world assets, the metaverse also consists of cryptocurrency and non-fungible tokens (NFTs). These are the currencies of the digital world and prior to NFTs, we didn't really have anything to buy an art piece in virtual reality. We couldn't own an art piece even if we wanted to. Then came NFTs, which is becoming a viable solution for the artists to get something in return and make profits on their artworks. It's an asset that can only be exchanged in the digital world. To make this ownership legal, the art pieces are bought with a digital certificate once the exchange of NFT is done.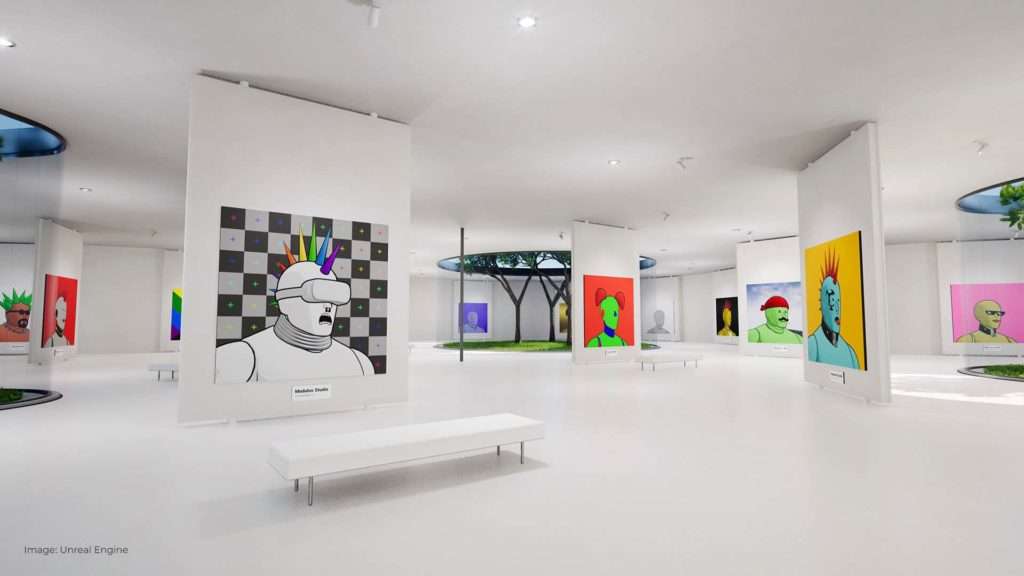 How is NFT gaining momentum in the art world?
It's not every day that you can create new products and their multiple prototypes for testing. The process involves a lot of back and forth along with the desired roadmap. Augmented and virtual realities allow various experimentation with ideas during the early stages of development.
Improved collaboration
While many artists were sceptical about getting involved with blockchain, cryptocurrency and NFT, they are now starting to realise the potential. Exhibitions and shows such as For Your Eyes Only, The Bardo, The Long Cut and Field Guide are some examples of how new and experienced artists are exploring the new normal. These art galleries showcase pieces with a varied price range so that it's feasible for everyone to own a little piece of the digital world.
Up until now, people were apprehensive about the nature of NFTs and how it relies on blockchain. However, the NFT wave is attracting quite a lot of artists and investors to display their talent all across the globe. There's an argument about how the value of an artwork is calculated in the digital world. Well, the answer is simple! The price of 3D art pieces depends on how the audience is perceiving them. You could be interested in the most elaborate art piece only to find out that its value is different while a simple GIF or meme sells for millions. Again, all about perspective and what people want to own.
This notion also brings itself an important question – is NFT enabling artists to be more free? For starters, digitised art exhibitions and galleries are enabling artists to be more creative and freely express themselves, without having to worry about critics. This platform has no limitations and according to the current scenario, artists are thriving and being more collaborative with the help of NFTs.
The big merger of the physical and digital worlds
A lot of NFT platforms are now opening their independent art galleries simply because the audience also wants to witness such incredible pieces in person. The NFT market is growing exponentially, it offers a renewed appreciation for artistic goals and expressions. Art galleries have identified this potential and focused on a global reach, which wasn't possible a few years ago.